Yes, Pick Your Seat. Choose the Best Commercial Pool Furniture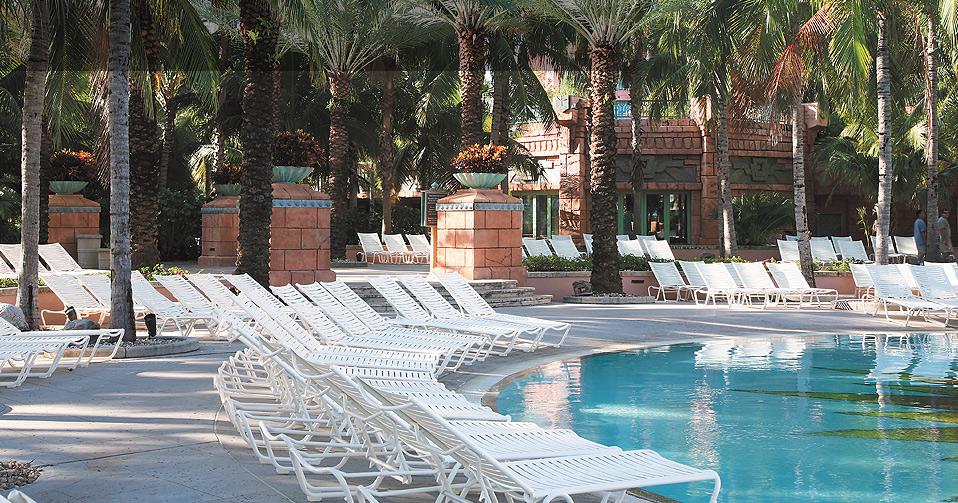 Here are some tips that will help you make the right decision when determining what pool furniture will work best for your hotel or facility and how to avoid common mistakes:
Let me preface this whole conversation with an overarching piece of advice. If you are purchasing pool furniture for public pools, hotel or resort, or multi-housing use, Buy only American or European manufactured furniture.
1. Comfort and Durability
If your cushions are not comfortable no one will use them so be sure to get the right cushions that are both comfortable and water resistant.
• Most textiles designed for outdoor use are made from all-weather materials that repel water (Acrylics) or encourage moisture to evaporate quickly by remaining porous (Textilenes).
• Fabrics designed for use outdoors are usually UV protected. They'll look good and feel soft for at least a couple of seasons. Sunbrella® or Twitchell® are considered leading fabric brands for outdoor applications.
• When you're comparing the sewing quality of commercial outdoor furniture and umbrellas, check seams for heavy duty thread and consistent, even stitches. Stress points are double stitched on the most durable furniture. Slings in chaise lounges and dining chairs are always double stitched.
• Choose cushions with vents that encourage air flow and quick drying. Invest in furniture with cushions that can be unzipped and taken apart for periodic airing, repair or replacement.
• It's also a good idea to buy outdoor furniture outfitted with cushions you can turn and flip. This will help them retain their shape, dry more quickly and fade evenly. If any harm comes to one side, you always have the other side to turn up.
• Acrylics, polyester, treated canvas and cotton duck are all comfortable, durable fabrics used in the construction of outdoor furnishings. Certainly, Acrylic fabrics from Sunbrella® or Twitchell® are most desirable for pool furniture cushions. Textilene fabric from Twitchell® is extremely rigorous for umbrellas and chair & chaise slings.
2. Details Matter
A consumer grade patio set (versus commercial grade patio furniture) can look attractive and perform with satisfaction in a residential setting. Consumer or residential grade pool furniture may have critical flaws that can lead to serious problems in a commercial setting.
• On large furniture, choose cushions with springs. They'll hold their shape longer.
• When inspecting metal furniture, use a magnet. Aluminum is not magnetic, but steel usually is. Although it doesn't work with all types of steel, you can sometimes tell aluminum from steel by testing them with a magnet. Stainless steel is usually not magnetic because of its high nickel content in the alloy.
• Check poolside chairs to make sure the legs are solid and sturdy. Sit in the chair to see if it shifts or flexes as it takes your weight. Award extra points to chairs that include cross bracing pieces and a good stretcher between the bottom of the back legs. Commercial poolside chair frames should be one piece construction, fully welded with 360° heliarc welds.
• Look for commercial pool furniture that uses stainless steel screws. Normal zinc coated hardware will eventually rust in chlorine and salt environments.
• Run your hands along wood and powder coated aluminum pieces to make sure they're sanded smooth.
• Commercial chaise lounges have either nylon or aluminum glides which are the "feet" that rest on the pool deck. Personally, I prefer the aluminum glides for commercial use but there are some pool operators who are concerned that the aluminum glides will scratch the pool deck surface. If you opt for nylon glides, contact your supplier (like ParknPool) and order some replacement glides to have on hand. They wear out quickly. Poolside chairs and tables will always have nylon glides. Order a bag of replacement pieces for these too.
3. Quality Counts
What you buy to use around a pool has to stand up to sun exposure, wind, rain and probably some roughhousing, too. Commercial pool furniture is made tough. It has to safely withstand public use everyday; residential pool furniture is only used occasionally in comparison. Inspect every piece for flaws or cheap design, especially if the deal sounds too good to be true. This is one case where a higher price is often a valid sign of better quality. A quality commercial chaise lounge will sell for about $140. A quality poolside dining chair will be at least $75.
4. Stay Cool
If you have a shade tree, great. If not, consider a cabana or umbrella to keep your cool on those sizzling days outside. Buying commercial umbrellas is a whole other lesson. In short, avoid cranks and tilts. Sunbrella® marine grade (9 oz.) solution dyed acrylic is the best fabric top that you can buy.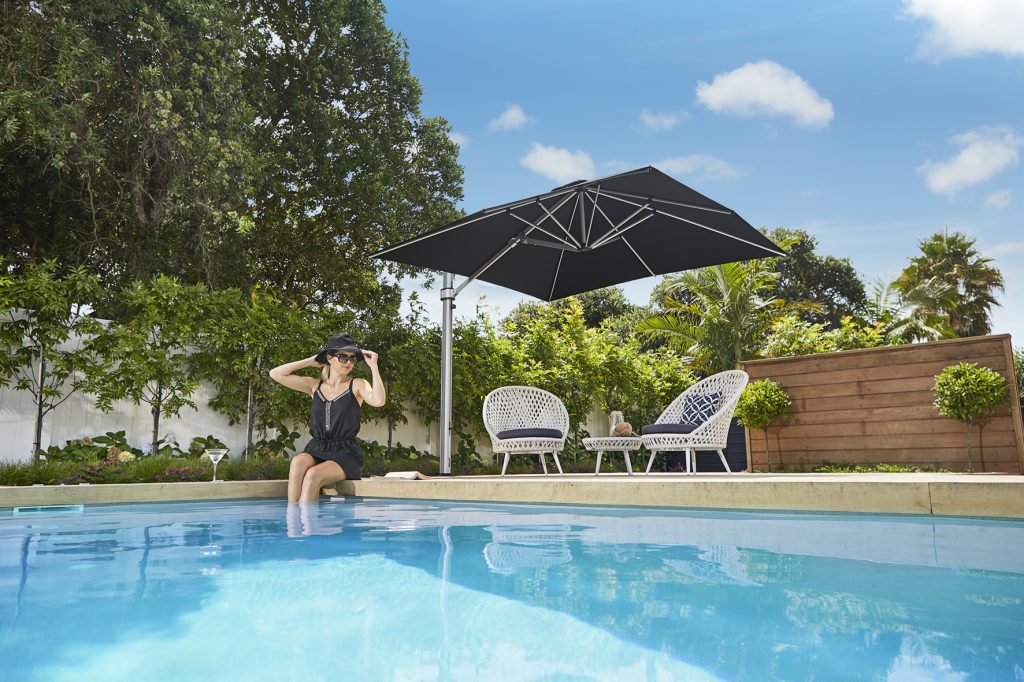 5. CYA – Liabilities
Commercial grade pool furniture is made to take a lot of abuse. Manufacturers have huge product liability policies. ParknPool protects you with a big liability policy. Commercial and public facilities have giant liability policies. If a commercial chair breaks in normal use (which it won't), you, the pool operator, has enormous protection when the victim's attorney comes calling. If you choose Chinese, or residential, or just plain cheap pool furniture, buddy, you are on your own.
5. Use Good Taste and Good Sense
Match your furniture to your establishment's style and color. You want some consistency here. Avoid furniture that "clashes" with your area's appearance. To fully adorn your new pool deck, consider chaise lounges, side tables, dining chairs, dining tables, umbrellas, trash receptacles and ash urns. Don't save pennies and risk dollars with cheap outdoor furnishings. Be sure to buy commercial grade pool furniture.