Whether you are shopping around for a high school or college stadium, athletic facility, a grandstand, or community venue, there are many styles and features to choose from. Bleacher seating is an important part of events, from Little League games to commencements, to school or work events – spectators need a place to sit at all of these but a one size bleacher does not fit all needs! Though bleachers come in many styles, they are most commonly made from quality aluminum. This is a safe, durable and cost-effective way to meet seating requirements at practically any occasion.
Why is aluminum so popular? The process of anodizing aluminum helps protect the bleacher seat planks from harsh elements, repetitive seating, and delivers a quality finish that's easy to clean. Anodizing is a process that gives aluminum a protective, corrosion-resistant finish – used on a bleacher's seating planks and end caps to increase durability and longevity.
ParknPool's aluminum bleachers are manufactured to withstand years of substantial use and are known for their superior load strength. Each situation is different. Here are some details about the three main styles of bleachers – and the benefits of each:

Sometimes permanent bleachers aren't the right solution and sometimes you don't need tons of seating to accommodate a stadium-sized crowd. Tip and roll bleachers are smaller, aluminum units for those who want fully portable seating – and need extra flexibility. They are typically offered with no more than four rows of staggered seating and come with built-in wheels.
The wheels (or the "roll" part of "tip and roll") make this bleacher style not only easily moved from location to location but also ultra-easy to maneuver into the desired position. Set on swivel caster, non-marring wheels for floor protection, the movability of this type of bleacher make the style a great fit for temporary needs, indoors or outdoors, as long as the surface is flat.
Tip and roll bleachers are not only relatively lightweight when in motion but stable and sturdy for years of dependable seating use whenever needed. Ground stabilizers and brakes are included for added stability and safety. These bleachers are great to have on hand because they can be simply rolled in to storage after active use, and safely locked into place with in-built brakes until next time!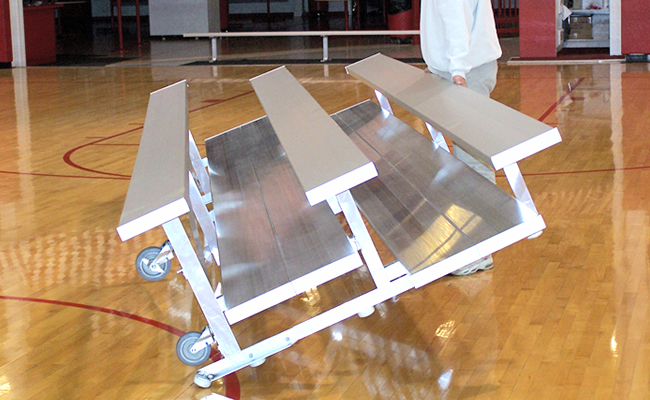 On some occasions, you need to transform a field into a viewing area for a special event. Other times, the expected crowd size is larger than the seating capacity of your permanent units. During times like these, movable bleachers are a great solution. These units can be put to use on-demand, moved from field to field, set up when overflow seating is required, then be broken down and taken away so your space can be returned to as it was pre-event.
Transportable bleachers are easy to set up and are a good match for those looking to meet a seating crunch since they can be placed alongside existing permanent structures. They can be used in multiple ways and repositioned to ensure unobstructed sightlines or special configurations when desired. The ability to be moved with a riding lawn mower or tractor, transportable bleachers are not intended to be transported on the highway. They are ideal for city park departments with multiple sports fields.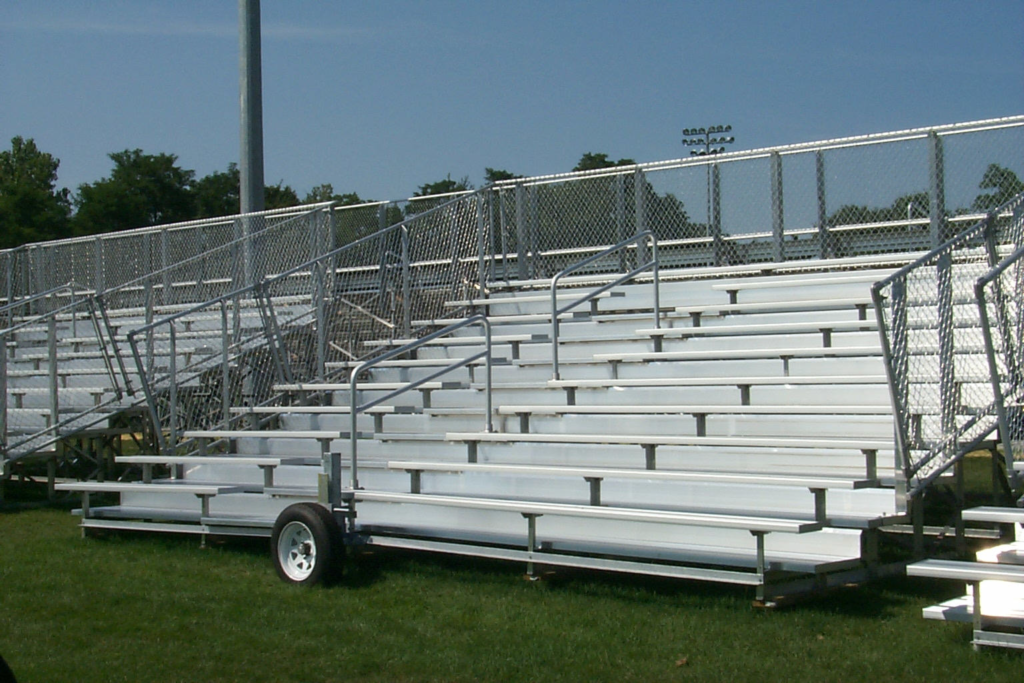 If you are needing permanent, long-term seating for big, anticipated crowds, fixed bleachers are usually the perfect answer! These units, also manufactured from aluminum, are durable and sturdy. In addition, they are built for frequent, high-volume use.
It's all about safety with elevated bleachers. ParknPool's elevated bleachers are manufactured to IBC (International Building Code) standards. This, for example, means that a guardrail system must be provided when the back height of the bleachers is 30′ or above. Openings between the seat and footboards can't allow the passage of a sphere greater than 4″ when footboards are more than 30″ above the ground – this required feature helpfully blocks items from falling through.
There are many other safety specifications when it comes to elevated bleacher units. Let Parknpool help guide you through them!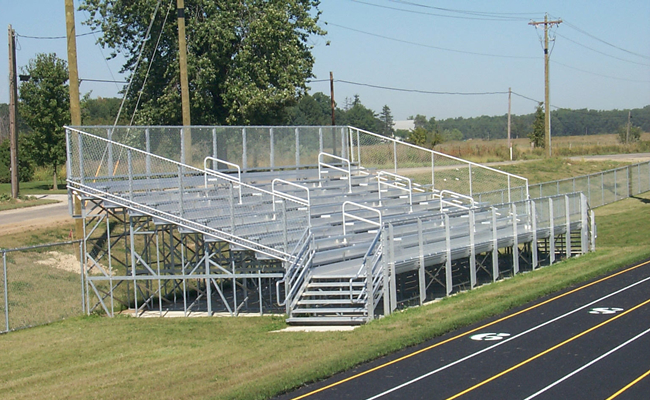 When evaluating your bleacher project, ask yourself the following questions:
What are your specific needs?
What are your state or local codes for bleachers?
Do you need portable bleachers to seat spectators for a one-time event or permanent bleachers to seat crowds of visitors at an athletic field?
Whatever your needs, ParknPool offers a full range of top-quality, aluminum bleachers that are code compliant. We have a trusted reputation and extensive experience working with all situations. We are competitive with our pricing, provide recommendations based on your requirements and will happily answer any questions you may have!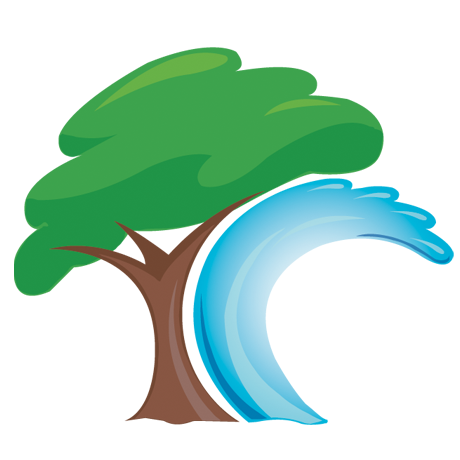 ParknPool | Lexington, VA | sales@parknpool.com | 877.777.3700