Play is important for child development, but sometimes the funds necessary to provide our children with the playground equipment that is needed to help them grow and learn can be a tough road. Following these simple steps will not only allow you to purchase a new playground unit or replace an existing one, it is also a great way to get your community involved.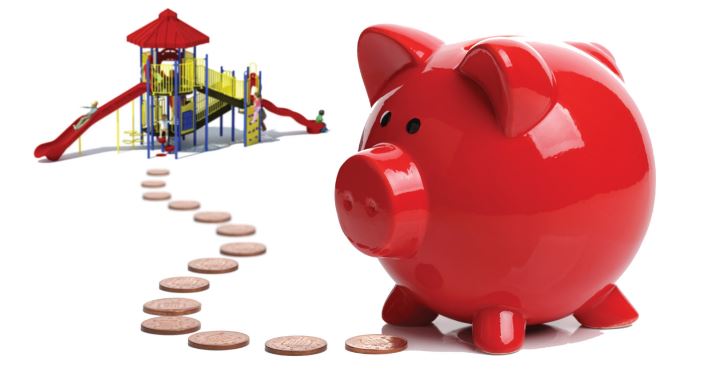 Fundraising Ideas
Idea #1: "Adopt" a Part of a Playground
Having a sketch or plan of your potential play area layout will help in your fundraising efforts. It can be used as a great marketing tool. Showing it to sponsors and posting it on message boards will create a visual reminder. Make a list of the major components of the playground unit. Set a price for each component and then break down your fundraising efforts one component at a time. Take your sketch or drawing around to local businesses and community service organizations asking them to "adopt" a part of the playground. You will have to develop a way for the donators to be recognized, whether that is on a single sign placed at the entrance to the play area or at each "adopted" unit. Get kids really excited about the new playground that will be placed at their school, neighborhood or community. The more they talk about the new playground, the more help you will get in your fundraising efforts!
Idea #2: Personalized Walkway Bricks
Parents love to put their child's name on something permanent. If you are planning on placing a bricked walkway leading to your new playground, have a fundraiser selling these bricks individually to parents, grandparents, guardians and family members. When pricing your bricks, be sure to account for the cost of laying them, and also having each of them engraved. Not only is this a great way to raise money but it also makes your playground a more personalized place to visit.
Idea #3: Penny/Coin Drive
A coin drive is a collection of coins from those in your community, neighborhood or school to help raise funds for your new playground. Have a central location for those involved to place their coins, or if raising money for a school, place large jars or jugs in each classroom. Be sure to announce your coin drive any way you can and watch the change come rolling in!
Most importantly, once you've established your fundraising efforts, don't be afraid to ask for help. Whatever you choose to do as a fundraiser, remember to invite your local paper or news channel. A little press coverage will go a long way!

How to Budget
Once you have your funds in place, it's time to start budgeting! Having a budget in place will help you prepare for any unexpected costs and offers a clear picture of the project. To create your playground budget, it is important to gather all financial statements available, record income sources, create a list of projected expenses, and document revenue projections. Building a new playground project budget can seem like a huge undertaking but with some careful considerations, you can be prepared for any financial surprises that may creep up along the way.
Project Expenses:
It is important to keep in mind that playground equipment is not the only expense you need to plan for in your budget. Depending on your specific needs, you should also consider these additional costs.
Surfacing – there are several types of surfacing options and many may require leveling, drainage of playground site, a means of containment, and a considerable amount of material.
Shipping – most playground systems are extremely heavy so you need to take into account the cost of freight, unloading of the components, and any package removal or disposal.
Site Preparation – many states, counties and municipalities require the purchase of a building permit when installing a new playground.
Storage – this will only apply should your new playground arrive before you have completed the preparation of the site in which your playground will be housed.
Installation / Assembly – due to the safety regulations of playgrounds, professional installation is recommended to ensure that your unit meets all safety regulations and is properly inspected.
Construction Materials – this may include anything from concrete, bricks, or sand.
Landscaping – if your playground will be placed near a highway or other obstruction it is always a good idea to have a wall of protection and a means of containing the children inside the designated play area. Planting bushes, trees or other shrubbery can be a fairly inexpensive way to accomplish this.
Playgrounds!
Thousands of years ago – before school yards were dotted with jungle gyms, slides, money bars and swing sets – Greek philosopher Plato said it perfectly: "Life must be lived as play."
Playtime is not just for fun; it is crucial to childhood development. ParknPool's commercial playgrounds and outdoor playground sets are ASTM (American Society for Testing & Materials) rated for public playgrounds, IPEMA (International Equipment Manufacturers Association) Certified, and ISO 14004; 2004 Certified.
These larger playground structures are constructed for children up to age 12 and each unit has specially chosen activities to challenge and encourage the physical, social and mental development of older children. They are perfect for elementary schools, public parks and homeowner's associations. Kids will be inspired and energized with the ladders, climbers, activity panels and slides that our included in each of our playgrounds!
ParknPool | Lexington, VA | sales@parknpool.com | 877.777.3700