Common recreation site furnishings found in a camping or picnic area include picnic tables, fire rings and grills.
The best of these furnishings require little-to-no maintenance, have a long lifespan, are easy to clean, and are difficult for vandals to damage. These furnishings also must be convenient, easy to use and safe. It is best to avoid items with protruding objects or sharp corners that could injure users.
Picnic Tables: While many travelers and campers bring their own grill or stove, few actually carry a picnic table. Because of this, it is a good idea to provide picnic tables in campgrounds and on trails where day use is encouraged. Tables are available commercially in wood, metal, concrete, recycled plastic and plastic coated expanded metal. Select table material based on your area's level of development, climate and amount of vandalism expected.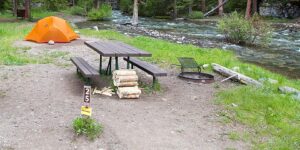 Grills and Fire Rings: Fire rings are essential at camp sites because they reduce fire hazards and make maintenance easier. Since, in most areas, evening use is not encouraged at picnic arears, fire rings are generally not necessary there. Fire rings with a hinged base so the cooking grate can be tilted back to clean out the ashes are the most preferred type. In addition, many accessible fire rings have an expanded metal barrier around the perimeter to keep campers from leaning against the hot surface. Grills are needed in campgrounds and may be installed at day-use trails. Pedestal styles are designed at a level comfortable for most users, and are also the most common. The best models have a cooking grate that is hinged and can be raised and lowered. Some models include lids to reduce cooking time and to keep food warm. Rotating grills and shelves for utensils are also available.
The most common campsite is the single-party camp site, other options include double-party camp sites, several-party camp sites and group camps. For more information on designing a campsite or picnic area call ParknPool at 877.777.3700 to speak with one of our sales managers.
ParknPool | Lexington, VA | sales@parknpool.com | 877.777.3700