With dog parks on the rise, park and recreation departments now have a variety of equipment, pet waste solutions and other products at their fingertips.
According to a recent study from the Humane Society, at least one dog can be found in approximately 39% of American households. As a result of this, American's largest cities have seen a comparable 34% increase in the number of dog parks within the last 10 years.
The Basics:
Though not always possible, successful dog parks are often launched in spaces that are not currently being used. To determine the right location, look for areas that:
Currently see high dog usage
Are outside the parameters of main parks
Will not affect wildlife or water quality
Are evenly distributed throughout the city
Are close to parking
Are away from existing playgrounds, residential areas and heavy traffic
Are dry and irrigated
Are at least 5,000 square feet
*It can also be helpful to place your dog park along a trail system to give dog owners greater opportunity to walk their four-legged companions.
While grass is currently the most common surfacing option for larger dog parks, bark chips (pun intended), san, gravel, granite or synthetic turf can also be used. Budget, climate, park size, usage and the surrounding park amenities should be considered when determined what surfacing should be used. Splitting a dog park in half, eliminating which side is open, can help preserve the surfacing material of larger dog parks while letting a smaller dog park go to dirt may be a better option.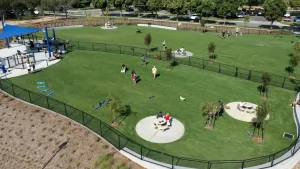 Fencing First:
Depending on the dog-breed demographics and the needs of the pet owners in your area, fencing is typically pretty standard in smaller off-leash areas while larger ones are often left without a fence. To create a smoother dog park operation, park and recreation departments are becoming a little more strategic in their fence placement while many parks are simply using a typical setup. This setup includes two sets of gates at the entry areas to allow pet owners to close the outside gate and unleash their dog before opening the inner gate and heading into the main area. Others, however, use a separate entry and exit area. If your potential dog park area contains a pond or other water feature, it is a good idea to place an additional fence around the body of water to prevent dogs from taking an unnecessary bath.
Park Features:
Today's dog parks can range from basic parcels of land to elaborate pet playgrounds with ponds, spray features, agility equipment and other park amenities. The basics are now becoming standard especially when it comes to staying cool and refreshed. Though a little less important in more moderate climates, whether it's a shade structure or trees, providing shade from the heat is especially important for both pets and their owners.
Ranging from a simple pet water fountain to a more elaborate spraying fire hydrant, water is a welcome amenity for all dogs. Since dogs often use anything upright as a marking post, water fountain placement is important. It may be in everyone's best interest to place the water features in areas where owners still have control over their pets via a leash.
Though the equipment in public spaces should not be of a professional grade, more recent dog parks also feature play amenities such as agility equipment. This adds a little extra fun and gives people the opportunity to do more than simply sit on a park bench. When selecting your agility equipment:
Look for equipment covered by a comprehensive warranty
choose various pieces that will challenge and accommodate dogs of varying sizes and ability levels
Use rust/rot proof materials
Select equipment with slip-resistant surfaces
Avoid equipment that is more than 3 feet high to prevent dog and child injuries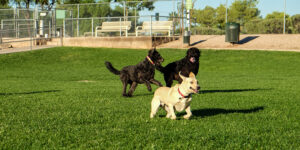 Whether your dog park is a basic plot of dirt or completely packed with high end amenities, it should be a place that your community pet owners appreciate. The knowledge and products now available give park and recreation departments the ability to create a dog park that fits their specific location, needs and budget. To find out more call 877.777.700.
ParknPool | Lexington, VA | sales@parknpool.com | 877.777.3700