The most effective way to encourage the use of your trail is to include amenities that make a comfortable, convenient, and safe place to visit. Though the amenities will vary from trail to trail, bike racks are an important on to include. They can be placed at trailheads, near restrooms or within local parks that connect to the trail. This will encourage cycling on your trail while also discouraging them from parking their bikes in unwanted areas or locking them to things like benches and tables.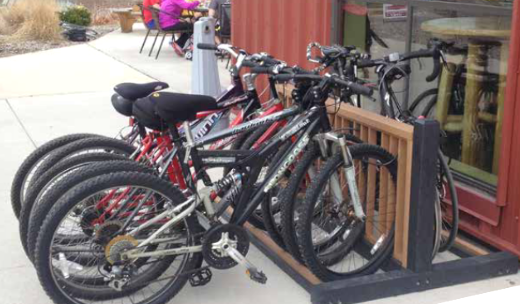 Bicyclists can include those that just live down the street or tourists passing through. As with all tourists, bicyclists represent potential customers who can bring revenue to your community, Although "if you build it, they will come" has some truth, in this case your efforts will not be realized immediately. They must be earned! Once bicyclists find you and your trails, regular maintenance must be done. Your visitor's bikes will require protection from theft and weather. Provide them with a bike rack as a secure parking option, keep them in good condition and make sure the area around them is free from trash and debris. If possible, they should be in a lighted area and covered with shelter from the rain.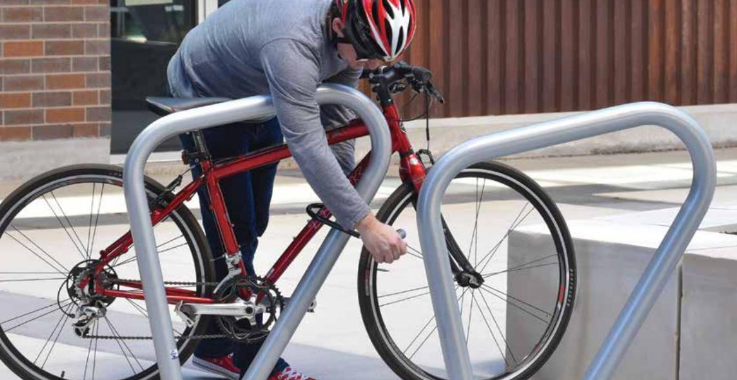 Ready to get started designing your trail's amenities? Let us talk about bike racks! There are a variety of design options that are meant to accommodate multiple bikes. To choose the best bike rack, you need to take many things into consideration.
Things to consider before installation:
Visibility: Avoid placing bike racks in isolated areas. Bike racks that are placed in highly visible locations prevent theft and vandalism while also allowing cyclists to locate racks immediately.
Weather Protection: Depending on your bike parking requirements, weather protection should be included. Some existing structures that can be used to shelter your bike racks are overhangs, covered walkways, and trees.
Spacing: Spacing should be calculated as if the bike racks at max capacity allowing for adequate clearance around the rack, access from both ends (if double sided) and should limit conflict with pedestrians, cars, or walls. Steps should also be taken to never block fire hydrants, doorways or walkways.
Proximity: Place the bike racks in a location near shared placed of interest.
Not sure where to start? Start here, with us! We'll tell you where to park it!
ParknPool | Lexington, VA | sales@parknpool.com | 877.777.3700