During the summer, no other amenity is enjoyed more than a residential community's swimming pool.
Though a swimming pool can add to the value of the residence and attract new buyers, managing and maintaining it is a major investment of time, energy and money. In order for an HOA's swimming pool to be safe, successful and enjoyable, its management staff must address many issues. Proper management is the key to retaining a pool's value. Community managers play a key role in the day-to-day management and operation of the swimming pool. Their responsibilities range from obtaining the proper permits and licenses to training the staff on the pool's rules and regulations.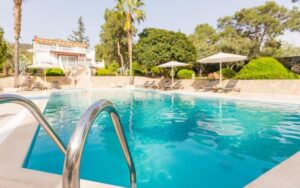 It is vital for a community to set clear rules and regulations to follow when using the swimming pool. By setting a comprehensive set of rules and communicating the rules to all the residents, the community ensures the safety of its residents and reduces its liability. The procedure for laying down rules and regulations governing swimming pools varies somewhat by community. In some instances, the HOA will meet and set the rules and regulations collectively. Other associations may adopt rules and guidelines from other community or municipal pools.
It is crucial a pool be well maintained to prevent accidents from occurring. Proper maintenance also protects the pool from damage and prevents it from damaging the surrounding property. This is where professional pool management companies come in. Professional pool management companies specialize in managing swimming pools and health club facilities for co-ops, condos and other residential communities – some even provide lifeguard and maintenance staffing. The majority of communities with pools use these companies, in part because of the reservoir of employees they provide, and also to reduce the burden on their managing agent.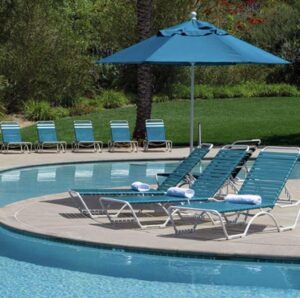 HOAs need to assess their risk and confer with their insurer to make sure the pool their residents enjoy so much isn't setting them up for catastrophic loss. What about extra coverage for peace of mind? How much a pool actually impacts an association's bottom line depends on the pool and how it's rated. It definitely has impact, but it's not necessarily a driving factor in your premium unless you have a large loss or extensive claims history. Hint: Adding a few commercial umbrellas or a shade structure will help give you an extra limit of liability.
Swimming pools involve plumbing, heaters, pumps and pool furniture that may occasionally need repair. Many pool management companies do not handle extensive repairs themselves, but are responsible for contracting an outside company to do the work. Mechanical problems usually require immediate attention and can be quite costly – running anywhere from $500 to $30,000. In addition to the technical repairs and upkeep, there are other costs involved in maintaining a community pool. When comparing the costs of maintaining and operating a pool against the benefits, many HOAs find that having a pool is worth the expense. For prospective residents, amenities such as a pool are very important. A well-designed and thoughtfully located pool enhances the aesthetics of the overall property. It is a great tool when it comes to marketing your property, as well.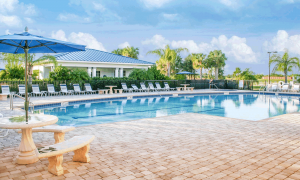 Properly equipping the pool deck is essential to enjoyment and safety. To avoid liability, always furnish the pool are with commercial pool furniture. While residential grade chaise lounges, poolside chairs and tables, and umbrellas have an enticing price, they are not made for public use. If a resident gets injured on a piece of residential furniture, the management is on their own when it comes to lawsuits. Conversely, commercial pool furniture is engineered and built to hold up to constant use daily. If a piece of furniture was to break, you have the manufacturer's product liability insurance to protect you. In respect to providing an enjoyable pool deck, these are the furniture pieces that you would need:
Chaise Lounges
Poolside Dining Chairs
Poolside Dining Tables & Side Tables
Commercial Patio Umbrellas
Umbrella Bases
Trash Receptacles
Lifeguard Chairs
While swimming pools may make for happy residents, they are often a challenge to manage and maintain but by forming a close working relationship with a pool management company and by taking proactive measures to make sure the pool is safe and healthy, the stressful elements of managing a swimming pool can be minimized.
ParknPool | Lexington, VA | sales@parknpool.com | 877.777.3700