Ah…the inviting smell of hot, burning coals, the smoky taste of barbecue chicken and the gooey delight of campfire S'mores for dessert. All you need now is the perfect grill and fire ring to make this outdoor meal possible.
People have been using fire to cook their food for as long as we have been on earth. At first, it was common to cook on wood fires because wood was a much more plentiful resource, but by 4000 BC civilization began cooking on charcoal fires instead of simply using wood. Both cooking sources are still used today for campers, cookouts and barbecues.
Our charcoal burning pedestal group grills provide more cooking surface so everyone in your party can eat at the same time. No need to cook 4 chicken breasts at a time while your guests line-up for dinner. You can cook the whole family-size pack at one time!
No more caveman days, fire rings are a perfect solution to replace a ring of rocks. Have your guests gather around to tell ghost stories while roasting those S'mores. Oh yeah, and there is a warranty on our fire rings that covers the unit, not the fire!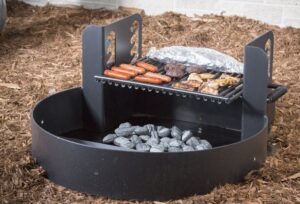 The telling of ghost stories around the fire at a campground has been a tradition for many years. ParknPool knows that coming up with a scary story on the spot can be difficult so we have taken the liberty of providing one for the next time you are gathered around a fire ring with your family and friends.
Located on a hill overlooking the town below stood the brand new headquarters of ParknPool Corp. The whole staff was so excited to move into their new environmentally friendly building but within days of settling in, they began to hear strange noises and witness mysterious events. Upon entering for the first full day of operation, the staff found the entire office in disarray. Wall hangings, that just days before, were hung perfectly straight now hung crooked and out of place. All of their catalogs were all laid out with the pages flipping themselves and the phone began ringing off the hook but when answered were greeted by nothing but silence.
Weeks after that initial first day of operation the clocks were no longer working, all of them stuck at exactly 5:00pm giving the impression that the end of the day had arrived. Someone wanted them out of that building! After much research it was determined, that unbeknownst to the builders, staff and surveyors, the new headquarters of ParknPool Corp had been built above the unmarked graves of past criminals. Unspeakable crimes were committed by the hands of those buried beneath the new building – crimes so horrendous that there is absolutely no record of the haunting criminals' existence.
And with no way to extinguish their haunting after-life presence, the end of this madness has yet to be seen…

S'mores are popular around campfires because simple ingredients make a perfect balance of flavors. The marshmallow is sticky and sweet, the chocolate is smooth, and the graham cracker is crisp and crumbly, acting almost like a pie crust helping to contain the filling. Making your own is simple, just don't forget your recipe card!
Browse our site for pedestal grills and fire rings to invite the smell of hot, burning coals, the smoky taste of barbecue chicken and the gooey delight of campfire S'mores at your barbecue, campsite or cookout!
ParknPool | Lexington, VA | sales@parknpool.com | 877.777.3700