NO, THIS IS NOT A GUIDE ON "HOW TO NAP ON A PARK BENCH"!
THIS IS A GUIDE ON "HOW TO PREVENT IT"!
In larger cities, finding individuals sleeping on your park benches may not be out of the ordinary. Fortunately, in the small city of Lexington, VA where our headquarters office is located, this does not present much of a problem. However, in a city not so far away from us, loitering on park benches seems to be causing an issue. The article title reads:
"BENCHES REMOVED FROM PARKS TO KEEP HOMELESS FROM LOITERING"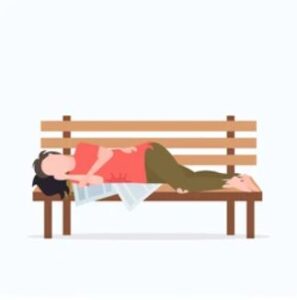 Now, while that may seem like the best solution…we beg to differ! Removing benches because people are hanging out on them and using them too much doesn't seem like a problem but perhaps it's the fact that people are sleeping on them. Every park deserves to have park benches, here is how you can keep them:
1. If you are looking to purchase new benches to replace old ones or are constructing a new park, perhaps your best option to avoid individuals sleeping on your benches and disrupting other people while enjoying the landscape is to purchase shorter benches. While a longer bench will provide more seating and you would need less of them, if you will be placing these benches in an area where homeless people tend to hang out, a shorter bench will make it difficult for a tired wanderer to stretch out.
2. If purchasing new benches is out of your budget then amending your existing ones is certainly an option. By placing a sleep inhibitor on your existing benches, you are putting a piece in the middle of your bench (on the seat) that will interfere with homeless people getting comfortable on your benches. The great thing is that we also have these little accessories for tables and table seats if it's your picnic tables that are being transformed into a bed at night.
Completely removing all of your benches may not be the best solution. Give us a call at 877.777.3700 and let us help you with other options that will help you keep your benches (and picnic tables)!
ParknPool | Lexington, VA | sales@parknpool.com | 877.777.3700