Site furnishings such as benches, tables, trash receptacles and more highlight your social space and draw indoor activities outdoors. Face-to-face social interaction is something we take for granted in this technology driven, fast-paced world. Our connections through cell phones and social media make us feel closer to each other than ever, causing our face-to-face interactions to suffer. Let's take a look at how site amenities and furnishings can foster a better social environment.
What are Site Furnishings?
Site Furnishings make a space more comfortable for visitors and, when used properly, create a more dynamic space for social interaction.
Types of Site Furnishings
These types of outdoor site furnishings create organized spaces for people to sit and stay a while. Benches and tables establish places to gather, spend time and even have lunch. Trash receptacles encourage a clean environment. Bike racks prevent the clutter of improper bike parking to trees, signs or fence posts. Shade structures offer a break from the sun and planters full of blooming flowers add beauty.
Identifying the Right Site Furnishings
Instead of being an afterthought and considered as a "finishing touch", site amenities and furnishings should be added early on. In addition to the architectural design elements, these amenities are an opportunity to establish an identity and character for your space. When designing your space, ask yourself the following questions:
Which pieces best match the character and identity of the space?
Do they welcome people to the space?
How do we arrange them in a way that promotes socialization?
The smallest detail such as shape, length, color and material have a significant impact on how the outdoor space compliments the surrounding buildings. How often the space is used once completed is a solid indicator on the success of your design.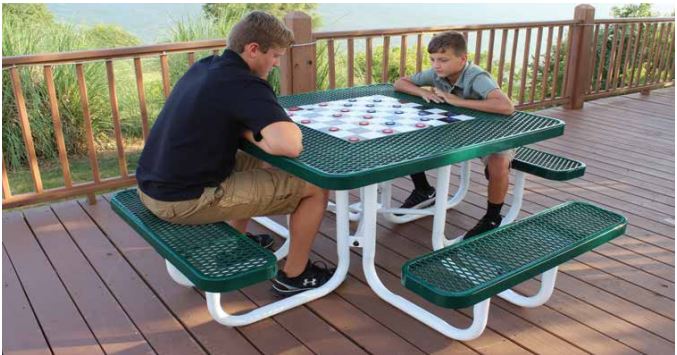 The seasonal weather in your area needs to be considered when selecting the type of site furniture. The pieces you choose should be able to withstand exposure to the elements. While cost and durability are considered with any project, it's important to keep in mind that cheap doesn't necessarily mean low cost. The continuous maintenance costs for a cheaper option will add up over time. Saving a few dollars in the short term may result in higher costs for repair or replacement in the future.
Looking to create an inviting outdoor space in your landscape design? Give us a call today for more information on site furnishings!
ParknPool | Lexington, VA | sales@parknpool.com | 877.777.3700