There are multiple resources for finding the right site furnishings for your public space, let ParknPool be one of them for you!
In areas where municipal officials or hired contractors are charged with maintaining and developing spaces such as parks and public gardens, they not only need to offer attractive site furnishings but also keep an eye on the budget assigned. How the space is furnished can often be the key element leading to financial stability and community satisfaction.
Site amenities should be based on comfort and user friendliness, choosing one piece over another depends on the overall style and design of the space. For example, in some areas movable tables and chairs are more suitable than permanent mounted site amenities. Also, an attractive color can enliven a space and attract people to use it but comfort is an important factor in purchasing a park bench or picnic table.
Materials:
Choosing materials should be based on the application with durability maintenance and product life at top of mind. Common durable materials include steel, aluminum, concrete, recycled plastic, or wood. There are also plastic coated options that provide the added benefit of color to park benches, picnic tables, trash receptacles and playgrounds.
Choosing: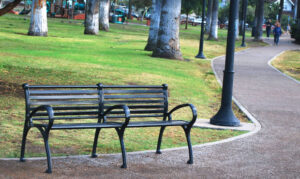 Observing how people use amenities will help in selecting the right kind for your particular area. For example, keep in mind that two-seat benches where there may be only one person sitting at each bench creates a waste of seating. There are also special considerations depending on the environment, such as:
Urban Areas – Urban furnishings need to stand up to vandalism.
Freezing Areas – Snow load capacity needs to be considered. Drinking fountains need to be shut down.
Coastal Areas – Saltwater can affect certain materials.
Themes and Designs:
Certain companies (hint, hint: ParknPool) work very well with their clients to provide them with site amenities and furnishings with a personal touch. Manufacturers can offer custom plaques, add special designs into steel, and provide custom labels for added messaging. Common requests include radius benches to fit specific areas, wall-mounted benches or even benches with a more unique design.
Maintenance: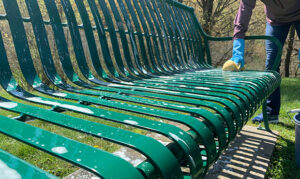 Maintenance is essential in all public areas. Choosing furniture and amenities that are easy to clean and store will help your maintenance crew. Products that are low maintenance can be a better deal than some of their more expensive counterparts, it all depends on how much time and resources you can devote to the upkeep.
Accessibility:
As in all other public areas, accessibility also needs to be considered in outdoor areas as well. Keep in mind that the ADA recommends measurements for space under tables for wheelchair accessibility but there are no official guidelines for benches. Certain considerations can also be made to accommodate for older or disabled individuals such as height of the armrests and the placing of any seating areas (preferably near walkways and paths).
In the end, when furnishing a park or recreational area, it's important to provide plenty of places for people to picnic, enjoy the views, rest their feet and throw away their trash!
ParknPool | Lexington, VA | sales@parknpool.com | 877.777.3700